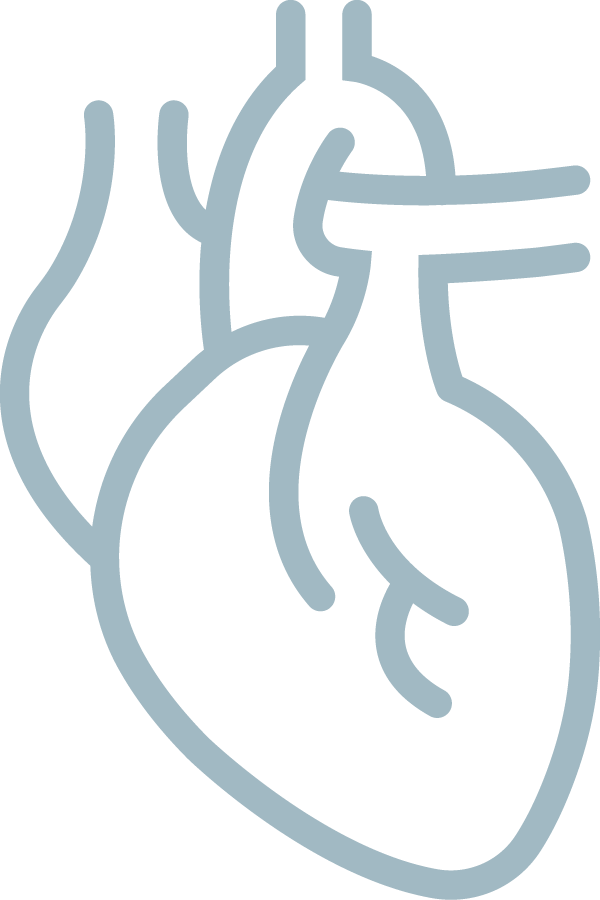 The heart cannot really break but sometimes it might be in trouble requiring support. Heart diseases are common in animals and could be easily overlooked as symptoms are often not readily apparent until more serious stages of heart disease are reached. If undetected or diagnosed late in its course, cardiac disease may lead to serious complications. Fortunately, many heart diseases can be managed well with an early diagnosis being of great benefit.
Our foremost goal is to improve the quality of life of your pet independently of the stage of cardiac disease.
Our cardiology team consists of two passionate and dedicated board-certified cardiologists and experienced cardiac veterinary nurses and is additionally supported by specialists in other areas and our strong team of general practitioners.
After diagnosing your pet's cardiac disease, we will inform you in detail about the diagnosis, treatment options, further management, monitoring at home, and the prognosis of the disease as teamwork is key to us to provide optimal service.
Problems that may require a cardiologist:
Heart murmurs (abnormal heart sounds)
Arrhythmias (irregular heart beats)
Shortness of breath, coughing, fainting episodes, weakness, exercise intolerance
Breed predisposition for certain heart diseases, screening of animals before breeding
Pre-anesthetic evaluation before surgeries
And many more
Diagnostic Tests for Pet Heart Disease:
If you suspect your pet has heart disease, our cardiac specialists will recommend appropriate diagnostic tests to accurately diagnose your pet's condition.
You need not worry about language barriers during the process, as our skilled nurses will provide support.

Many of those examinations (with the exception of advanced diagnostic imaging modalities) are non-invasive and do usually not require sedation or general anesthesia. Our experienced veterinary nurses will just help your animal gently to stay in the required position to conduct those examinations as quickly and relaxed as possible – patient safety is paramount.
Diagnostic Tests for Heart Disease include:
Echocardiography (2- and 3-dimensional, Color Doppler, Tissue Doppler Imaging, Contrast Echocardiography, etc.)
Electrocardiography (ECG) and 24-hour ambulatory Holter-ECG monitoring
Blood Pressure measurement
Radiography
Blood tests
Advanced diagnostic imaging as Angiography, Computed Tomography (CT) or Magnetic Resonance Imaging (MRI)
Therapy and management:
As the field of veterinary cardiology is constantly advancing and every pet and its disease is different, there is no 'one-fits-all' treatment approach – therefore, the management of your pet's heart disease will be individually tailored.
Treatment options include among others:
Medical therapy at home or, if indicated, hospitalization with intensive treatment and care for seriously ill patients
Drainage of fluid out of body cavities (pericardiocentesis, thoracocentesis, abdominocentesis)
Minimally-invasive catheter interventions
- Closure of Patent Ductus Arteriosus (PDA) with closure device (e.g. ACDO)
- Balloon Valvuloplasty of Pulmonic Stenosis
- Pacemaker implantation for bradyarrhythmias (too slow heart rates)
Surgical approaches
- If your patient is too small or is not a good candidate for a minimally-invasive catheter approach due to the nature of his disease, we will refer you to a surgical specialist in certain cases for open-chest approaches like surgical ligation of PDAs after careful consideration
Specialist in Veterinary Cardiology